ESB RETIRED STAFF ASSOCIATION REPRESENTING ESB PENSIONERS AND STAFF ON VSS
LEVY FOR LIFE
ON OUR PENSIONS
THE GOVERNMENT'S LEGACY
____________________________________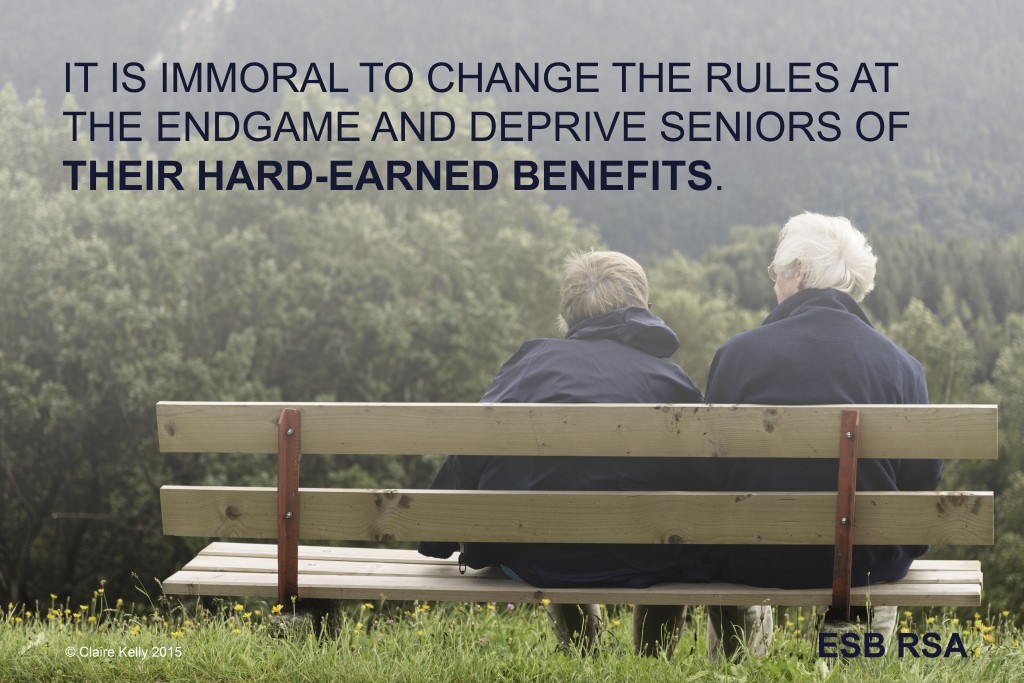 UPDATE 15th June, 2021
With regret we inform you of the death of Tim Costello who retired as ESB District Manager, Dublin South in 1985.
RIP.ie Link for Tim Costello, Foxrock, Dublin is below.
https://rip.ie/death-notice/timothy-c.-costello-foxrock-dublin/461235
UPDATE 4th June, 2021
Attention All ESB Pensioners
ESB has been a successful and profitable company over the last 10 years and more, with operating profits averaging €533 million per annum in that period. However, during this successful period ESB has consistently discriminated against you as pensioners, denying you a pension increase, pro-rata representation on the governing bodies of ESB Pension Scheme, and have ignored your right to representation in discussions that would affect your future financial security. You have been denied voting rights on issues affecting you as pensioners, and ESB has ignored the fact that pensioners represent 71% of the total Pension Scheme membership.
ESBRSA has been campaigning for Representation & Arbitration rights for retired workers for more than a decade or so, correspondence with successive Governments that has fallen of deaf ears. Governments that have lacked the political will to initiate change and introduce proper legal protection for pensioners and give them representation rights that they have earned throughout their working lives.
Brid Smith and her colleagues in People Before Profit have listened to former workers and have acknowledged their right to defend their pension rights once they retire and to be consulted on any changes that may affect their Pension Schemes and their future financial security. ESBRSA would like to commend Brid and her colleagues for the major efforts that they have made in bringing forward legislation in the form of this Bill, (Industrial Relations Provisions in Respect of Pension Entitlements of Retired Workers Bill 2021) which will be debated in the Dail on either 30th June or 6th July.
This Bill needs your support and the support of your local TD's.
ESBRSA urges all ESB Pensioners to use the document below, send it to your TD's in your own constituencies asking them for their support for this Bill when Brid Smith brings it before the Dail and to vote in favour of passing this Bill into legislation
Give retired workers a voice; Give them the right to be represented on their pension schemes.
Five reasons you should support the Right to Representation for retired workers.
1. The Bill (Industrial Relations Provisions in Respect of Pension Entitlements of Retired Workers Bill 2021) will be debated in the Dail in early July when it is introduced by Brid Smith of People before Profit. It gives a voice to retired workers over what happens to their occupational pension schemes after they have left their employment. At present, thousands of workers who have worked for decades in a company or a semi state find that once they have left their job, any changes that impact their pension schemes can happen with little notice or consultation with them. This Bill will change that.
2. The Bill will give retired workers and their representative associations the right to go to the WRC when their occupational schemes are affected or there are proposed changes that could affect their benefits. At present, if these changes happen more than six months after a worker has retired they have no rights to access the WRC ; This Bill will change that.
3. The Bill will give rights to retired workers associations to be consulted when talks between trade unions and employers may have direct effects on their occupational pension schemes. At present, retired workers are not consulted in industrial relations disputes that may have an impact on their pensions ; This Bill will change that.
4. This Bill will ensure that one position was reserved for retired pensioner members who were standing for elected positions on trustee boards in some circumstances. Retired workers can often struggle to have their voice heard on their scheme's Trustee Board; no positions are currently reserved for retired members; This Bill will change that.
5. Retired workers and their associations cannot currently access the WRC, because of the definition of a trade dispute in legislation, this means even where substantial cuts or changes have happened to their pensions, retired workers have no effective forum to seek redress or demand consultation. This Bill will change that.
Retired workers have endured a decade of attacks on their pensions, and all workers are facing further attacks on the very idea of a decent pension when they retire. The right to retire at 66 itself is constantly under pressure from Governments and employers. We believe that pensions are deferred wages, hard won by long struggle of workers and their trade unions in many cases. However, deals between companies and trade unions can result in significant and long-lasting changes to retired workers pension entitlements. Yet, those workers who have often paid into schemes for decades and been active trade union members have no say in those deals and are not even consulted in advance.
This Bill will change that and correct a deep injustice done to all retired workers.
This Retired Workers Rights bill will challenge that and ensure that retired workers and their representative organisations are at the table and recognised when their hard-won pensions are being discussed.
"Nothing about us Without us" is the catch cry of many social movements and so it is with retired workers who are asking that you support their right to be represented and able to defend their pensions after they have retired.
Please lend your support to the Bill
UPDATE 9th May, 2021
With regret we inform you of the death of our former colleague Martin Gibbons of Parknahown, Cullohill, Co Laois. Martin worked in Generation before moving to Portlaoise district as Transmission Engineer. Martin died on 8th May and his funeral is on Monday 10th at 1:00 pm. See RIP.ie for details
RIP.ie notice for Martin Gibbons


UPDATE 15th January, 2021
We have been advised by Bríd Smith TD PBP that she will be introducing a proposed bill entitled Industrial relations amendment (Provisions in Respect Pension Entitlements of Retired Workers) Bill 2020 the Dail.
Briefly the bill aims to give greater representative rights for retired workers and their representative organizations when it comes to issues around their occupational pension schemes. It does this by changing certain clauses in the Industrial Relations act to expand the time period in which retired workers can take a case to the WRC for example and by changing the definition of trade dispute, strike and by adding organizations representing retired persons to other clauses in order to expand their rights.
The links below will bring you to pdf files of an explanatory memo and the Bill.
http://www.esbrsa.ie/wp-content/uploads/2021/02/final-pension-explanmemo.pdf
http://www.esbrsa.ie/wp-content/uploads/2021/02/final-pensioners-bill.pdf